The Assurant Foundation has made a donation of $10,000 to the domestic abuse charity My CWA, formerly known as My Cheshire Without Abuse. My CWA was nominated by the Assurant European Women's Network, an employee resource group whose purpose is to support women in the workplace and beyond. In addition to the donation, Assurant has also supported the charity with skill-sharing initiatives, employer-supported volunteering and a recent corporate fundraising event.
As co-chairs of the Assurant European Women's Network, Kerry Crompton, European legal director and Natalie Paddock, EU group company secretary, presented the contribution to Saskia Lightburn-Ritchie, My CWA CEO, during a fundraising day in support of the charity. Assurant held the fundraising day at its European head office in Crewe with a host of activities organised by the Assurant European Women's Network for employees; including an ice cream van, a silent auction and raffle, and a networking event with representation from My CWA and Cheshire Constabulary, who brought on site the service's new night-safety buses. During the event an additional $1895 (£1,477) was raised to support My CWA.
"It is such a privilege to partner with My CWA and help support their amazing work and their desire to make life changing impacts in the community," said Crompton. "We kickstarted our partnership with employees volunteering hours to help My CWA make and distribute holiday gifts to the families they support who have been impacted by domestic abuse. To grow our support with today's generous donations from the Assurant Foundation and Assurant employees is a wonderful testament to our corporate culture of giving back in communities where we work."
"Community partnerships have such a significant impact on the work we do and the people we help. They help raise awareness of our services, build long-lasting connections for us, and help employees give back to their local communities," said Lightburn-Ritchie. "This partnership also brings much-needed financial support to My CWA and we cannot stress enough how crucial that is for us right now. With demand higher than ever and budgets having to stretch further and further, we have genuinely never needed our corporate partners more. I'd like to extend a heartfelt thank you to everyone at Assurant for their generosity and efforts. Every penny Assurant has raised for us will go towards helping adults and children in Cheshire affected by domestic abuse."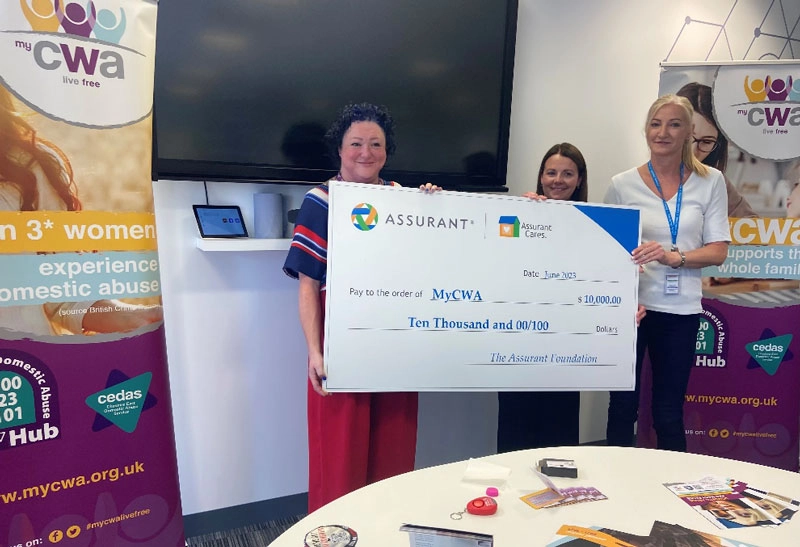 Assurant, through the Assurant Foundation, donated $10,000 to My CWA, a charity supporting families affected by domestic abuse. Pictured from left to right: Saskia Lightburn-Ritchie, My CWA CEO; Natalie Paddock, Assurant EU Group Company Secretary; and Kerry Crompton, Assurant European Legal Director.