In continental Europe, purchasing refurbished devices is still not as popular as premium new devices, but in the UK, they surpass buying a new device. When it comes to looking at the refurbished device market, there is a clearly a growing interest for consumers to consider a second-hand device. This is subject to important factors such as the condition and cost of the device, and the warranty available for their connected purchases.
Support and protection are important for increasing refurbished phone adoption
For the UK, 47% would consider purchasing a refurbished device and 9% have purchased a second-hand smartphone/refurbished device previously. Consumers in Germany aren't far behind, with 39% considering a refurbished device and 5% having already purchased one. Consumers have a strongly positive outlook on second-hand devices, but they want additional factors to support and protect their choice to make them feel comfortable in purchasing such products. It's up to refurbished device market providers to sooth consumer concerns for these services, which is where Assurant comes into play.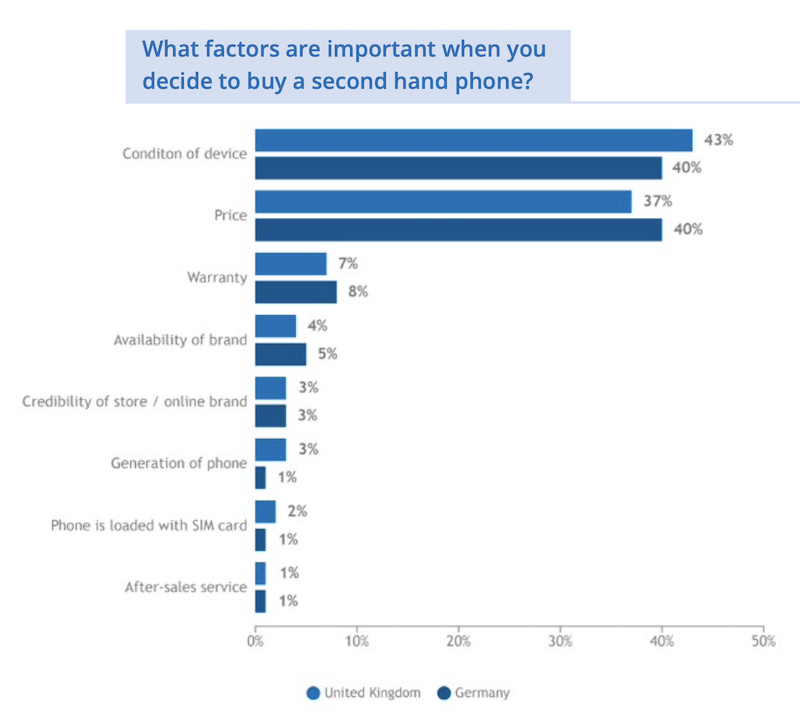 What this trend means for the industry
As the refurbished market grows, you want to partner with a leader in providing quality second-hand devices that are cost efficient and in like-new condition to enhance your customer experience. This increases your ability to drive brand loyalty and capture new consumers.
Assurant's bespoke UK-based Device Care Centre provides the capabilities to support your customers if they face issues with their mobile devices. This includes testing, repairing and replacing broken devices, so that your customers can stay connected and carry-on with their lives with as little disruption as possible. With new technology, such as Assurant RescuTech for liquid damaged devices, we can help save 80% of the devices we receive. Ensuring they are fully dried and returned to full working order. RescuTech uses patented technology, which is exclusively available to Assurant in the UK.