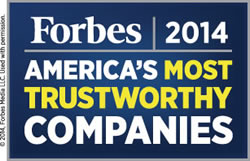 Assurant, Inc. (NYSE: AIZ), recently was named to the 2014 list of "America's 50 Most Trustworthy Financial Companies" published by Forbes magazine.
"Assurant is dedicated to protecting what matters most to our clients and consumers while building shareholder value in accordance with strong corporate governance standards," said Robert B. Pollock, president and CEO of Assurant, Inc. "We're proud to be recognized for our high level of commitment and accountability to our customers and shareholders, and be included on this important list."
"America's 50 Most Trustworthy Financial Companies" list is compiled by GMI Ratings (GMI), a leading provider of research, data and analytics on environmental, social, governance and forensic accounting risks affecting the performance of public companies. The list was compiled reviewing the accounting and governance behaviors of publicly-traded North American bank and insurance companies for the past four quarters of the 2013 fiscal year. High-risk events, revenue and expense recognition methods, SEC actions and bankruptcy risk factors were considered in determining a company's credibility.