For the eighth year running, over 100 colleagues at our European head office in Crewe, UK, were on call to take donation calls from the public in support of Sport Relief, a major UK charity event.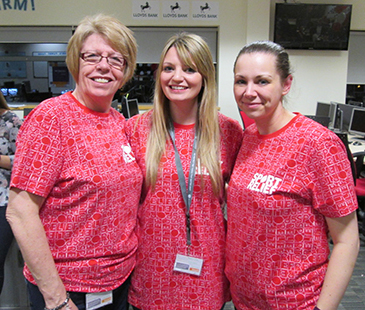 On Friday, March 18 our generous volunteers gave hours of their own time to man and run the call centre, taking calls between 7 and 11pm. This coincided with a nationwide TV extravaganza featuring some of the UK's best comedians, sport stars and musicians.
Chief Executive Officer Andy Morris and Chief Operating Officer Darren Billings were on hand to open the event and welcome the volunteers, family, friends and guests who had turned up to help.
Andy said: "I want to thank everyone for coming and donating their expertise, their experience and their time to support this brilliant cause. The generosity of everyone here makes a difference to people and communities in the UK and around the world."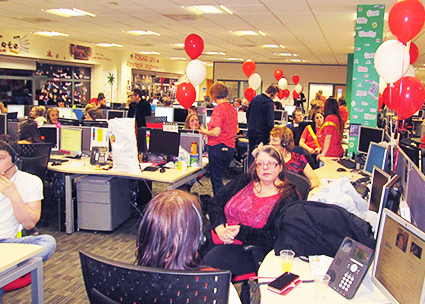 There was a fantastic atmosphere in our call centre, with everyone showing great enthusiasm for the task. A lot of pizza was shared and a lot of snacks, treats and fizzy pop too - which may have helped with the excitement!
Colleagues also joined the fun and games during the day with their own fundraising activities; personal challenges such as walks, bike rides, swims and bake sales all being undertaken in the name of charity. To date employees have raised around £4,500 for the charity through their own efforts. Over the years volunteers have given around 2800 hours of their own time to take donations worth an estimated £400,000.
Sport Relief is a campaign fighting against worldwide poverty run by Comic Relief which, since 1985, has helped countless people thanks to the amazing generosity and fundraising brilliance of the British public.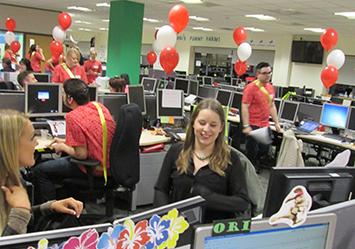 Assurant, along with 80 other companies in the UK, provide the vital call centre support for this night of entertainment and fundraising. Donations are taken in a number of ways, but the telephone hotline still takes nearly 40% of all the money raised.
This money makes an incredible difference, with 50% used to transform lives in the UK, and the other 50% funding projects in the world's poorest communities. In the last 2 years Sport Relief has helped to enable:
over 189,000 children attend school;
funding for 23 projects supporting people living with dementia;
vaccinations for over 734,000 children;
support for 16,500 people to improve their mental health.
Assurant is proud to support The Sport Relief campaign and the charity Comic Relief.