By Andy Morris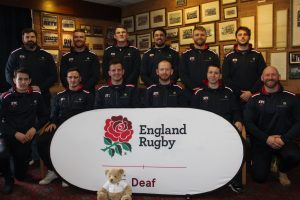 The first ever World Deaf Rugby Sevens Championship is currently underway in Sydney, Australia and all of us here at Assurant are pleased to have played a significant part in helping England's teams compete Down Under.
The event is running from 22nd-28th of April, with 11 countries from around the world vying for the championship title. The England Deaf Rugby Union (EDRU) has sent a men's squad and a women's squad – 24 players in total, along with two coaches – and Assurant's sponsorship has seen them fitted out in training kit for the competition, as well as helping with the costs of participating in the event.
While many of us here are keen rugby fans (I was proud to have played for England in its under 21s squad), there's a lot more to Assurant's support of the EDRU tour.
Assurant cares about protecting what matters most to people and a huge part of our culture is empowering everyone in the business to be able to give back to the communities in which we serve. We know that our employees are what makes Assurant great, and I believe we've created a culture that allows people to make a difference. The diversity of our staff is reflected in the range of causes we support and we're pleased to be contributing to the thriving deaf rugby movement.
Our charitable arm, the Assurant Foundation, enables employees to give back to our local communities in a variety of ways, from charitable donations, to matching gifts of employee donations up to a certain level, to active volunteering with community outreach. It's truly inspiring to see the enthusiasm and creativity that colleagues put into helping out causes that are close to their hearts, whether that's through a marathon run, bake sale or volunteering, anything to help benefit others.
While the men and women of the EDRU sevens squads are competing on the other side of the world and many time zones away, our own Assurant team is eagerly checking to see how they have fared in the day's competition.
We hope everyone involved is enjoying not only the games they're playing, but meeting other participants and supporters who have come from all around the globe to be part of this inaugural competition.
We're proud to support the team. Good luck everyone!