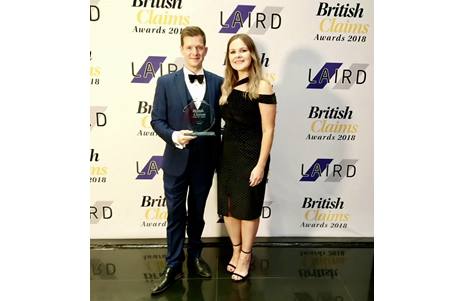 Assurant Scoops Top Award at British Claim Ceremony
By Andy Morris
It's clear that all our needs are rapidly evolving in response to an increasingly connected world. This has never been truer for business customers, whose mobile phones are the lifeline of their business and at Assurant we understand how important staying connected is.
With a deep understanding of the mobile protection market across a wide variety of countries and sectors, we have a unique understanding of people's needs, expectations and behaviours. That means wherever the next opportunity is, we're uniquely positioned to get our clients there first, which is how we were able to support Vodafone UK see further and launch Vodafone Rapid.
When Vodafone Rapid launched in 2016, the service was a game-changer, a first within the mobile phone insurance market. Delivering a best-in class-customer experience throughout the claim journey, the solution offers a replacement device to a business customer within four hours of their claim being accepted.
The average Rapid delivery time in 2017 was two hours and 52 minutes, the fastest being an incredible 30 minutes! Over three-quarters of all deliveries were made in under three hours, helping businesses stay connected, no matter what.
At Assurant we adapt as we go, so we're continually looking at ways to expand and enhance this service. To provide further coverage we've added additional hubs to increase service performance. The Rapid service was also initially only available to small and medium-sized enterprises but due to its huge success, we quickly expanded it to businesses of all sizes.
On June 7 at the British Claims Awards, the Vodafone Rapid service scooped the Client Care Initiative award, which reflects our highly customer-focused and agile approach and demonstrates how we enabled Vodafone to see further for its corporate clients.
From start to finish the consumer benefits from a slick and simple claims process all geared to minimise any disruption to their business. Vodafone's customers love for Rapid is reflected in our excellent net promoter scores (NPS) which on average are 27 percent higher for policies with Rapid, compared with those which didn't include the service. NPS feedback for policies with Rapid continually increased throughout 2017, so much so, that they were over 35 percent higher by the end of the year, compared with when the service was first launched.
The British Claims Awards, now in its 6th year, celebrates the achievements and progress made by the leading professionals in the claims sector on behalf of their clients and policy holders.