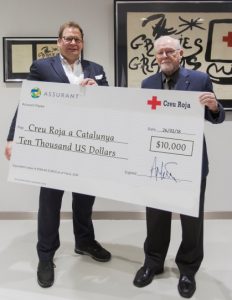 Barcelona, 6 March, 2018 – The Assurant Foundation has donated US$10,000 to the Red Cross based in Barcelona to support its work fighting chronic poverty in the community and beyond. The Assurant Foundation is the charitable arm of Assurant, Inc. (NYSE: AIZ), a global provider of risk management solutions, through which donations are provided or employee time invested.
Andy Morris, President & CEO, Assurant, Europe, officially presented the donation on a visit to the headquarters of the Red Cross in Barcelona on 1 March 2018. He was visiting Barcelona as part of a team from Assurant attending the Mobile World Congress at Fira Gran Via, Barcelona, from 26 February to 1 March 2018.
Andy Morris said, "I'm delighted to be able to make this donation on behalf of the Assurant Foundation. The Foundation provides assistance to local organizations who are instrumental in improving the lives of those in the communities we serve, and the Red Cross does such important work with so many members of the public.
"Assurant believes in helping people to protect what matters most and this often becomes even more important in times of need. That's why we commit the Assurant Foundation in a variety of ways, from employee volunteer work to charitable donations, so that everyone in the business can make a difference and give back to their communities."
Antoni Aguilera, President of the Catalan branch of the Spanish Red Cross, said, "We'd like to thank the Assurant Foundation for this donation which will help us to combat poverty and malnutrition. We're committed to helping people in crisis, whoever and wherever they are, and it would not be possible without contributions like this. The first of the Sustainable Development Goals set by the United Nations is to end poverty in all its forms everywhere. Our society stands shoulder to shoulder as we work towards achieving this goal."
This was the 7th year Assurant attended Mobile World Congress, providing visitors an opportunity to discuss how the mobile industry is evolving to meet the changing needs of consumers and businesses.
For further information please contact:
Amy Murphy ([email protected]) or Holly Underwood ([email protected]) at Access: +44 (0)20 8618 1875.
About Assurant
Assurant, Inc. (NYSE: AIZ) is a global provider of risk management solutions, protecting where consumers live and the goods they buy. A Fortune 500 company, Assurant focuses on the housing and lifestyle markets, and is among the market leaders in mobile device protection and related services; extended service contracts; vehicle protection; pre-funded funeral insurance; renters insurance; lender-placed homeowners insurance; and mortgage valuation and field services. With approximately $32 billion in assets as of December 31, 2017 and $6 billion in 2017 revenue, Assurant operates in 16 countries, while its Assurant Foundation works to support and improve communities. Learn more at Assurant.com or on Twitter @AssurantNews.
About the Red Cross in Barcelona
Red Cross is an international humanitarian institution, voluntary based and declared of public interest that is governed by the following fundamental principles: humanity, impartiality, neutrality, independence, voluntary service, unity and universality.
In 2017, the Catalan Branch of the Spanish Red Cross attended around 493,000 people distributing direct aid related to poverty programs, such as food distribution, educational support for kids, payment of light and water bills, and labour integration. All this humanitarian action is possible thanks to the contribution of public and private entities, 17,000 volunteers and about 230,000 private supporters and partner companies. Learn more at Creuroja.org or on Twitter @CreuRojaCAT.