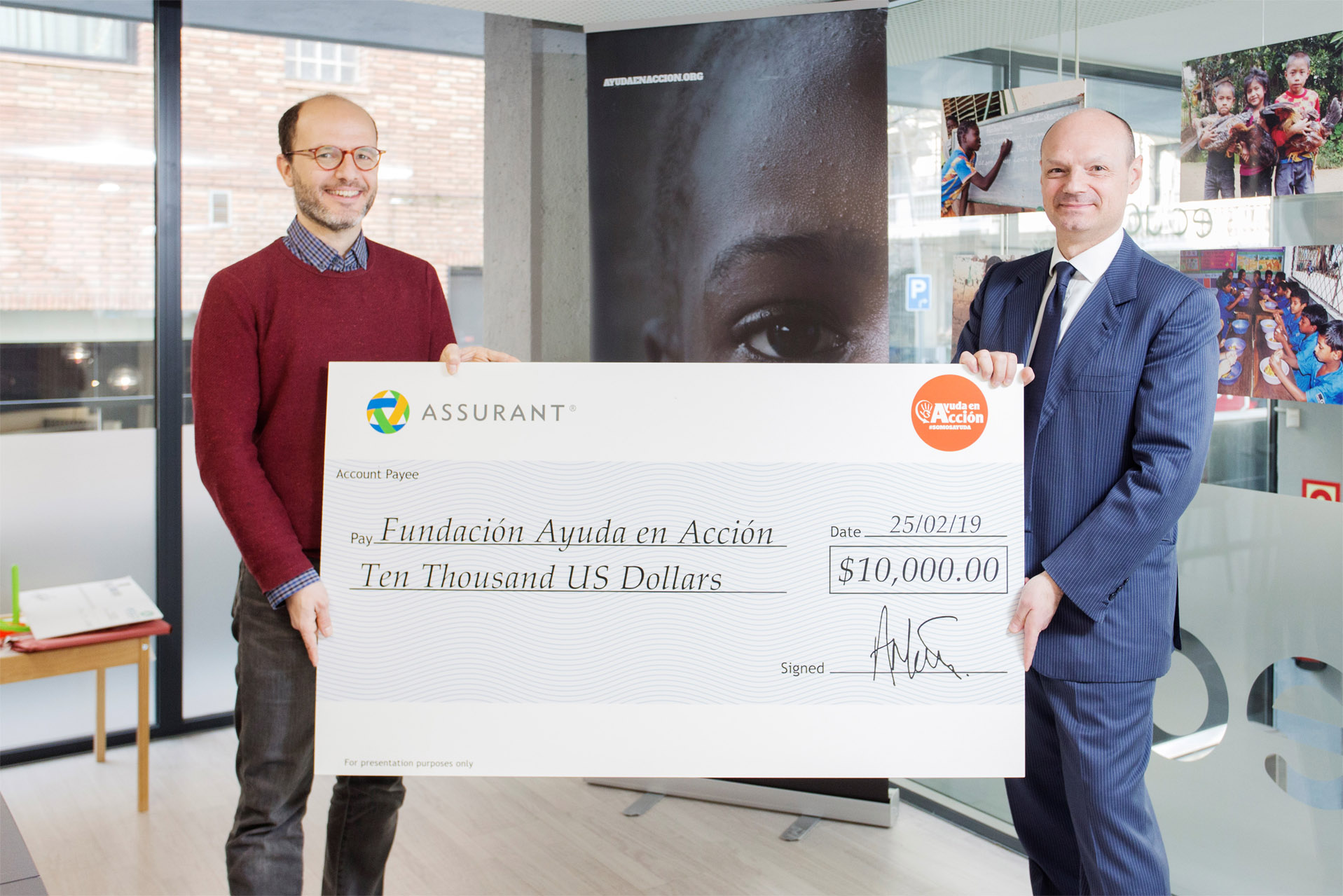 The donation will go towards children's technological learning through Ayuda en Acción's Labs4Opps project
London, 4 March 2019 – The Assurant Foundation has donated US$10,000 to Ayuda en Acción, a Spanish non-profit organisation that works to eradicate poverty and inequalities, by contributing to improve the diet, health and education of almost two million children and their families in Asia, Africa, Latin America and Spain. The Assurant Foundation is the charitable arm of Assurant, Inc. (NYSE: AIZ), a global provider of risk management solutions, through which charitable donations or employee volunteers are provided.
The donation was presented to Alex González Martínez, Ayuda en Acción, while Marco Prada, Managing Director for Assurant Central and Southern Europe, was attending Mobile World Congress in Barcelona from 25 to 28 February 2019.
"Assurant is proud to make this donation on behalf of the Assurant Foundation to Ayuda en Accion to further their important work to improve the lives of those in the communities we serve," said Marco Prada. "Ayuda en Acción is so important as they help young people at risk of exclusion develop the digital skills which are crucial in a modern workplace."
He continued, "Fostering an interest in science and technology at a young age is hugely beneficial and gives young people an opportunity to carve out a space for themselves in the future. Transferable skills like these enable these children to have opportunities that break down barriers."
This is precisely the objective of Ayuda en Acción's Labs4Opps programme, an educational innovation project aimed at young people that uses new technologies as a tool to break the socio-economic and gender gaps. This initiative is part of the programme "Aquí también" that Ayuda en Acción has been developing in Spain for five years in support of children, young people and their families.
Alex González Martínez, from Ayuda en Acción, said: "Through our labs we respond to the main problems faced by youth in Spain, such as their discontent with the education system, school failure and inequality in accessing new technologies. This donation from the Assurant Foundation will allow us to continue developing the Labs4Opps initiative and provide our young people with spaces for experimentation, creation and technology to improve their opportunities for personal and vocational development."
This will be the eighth year Assurant has attended Mobile World Congress, providing visitors with an opportunity to discuss how the mobile industry is evolving to meet the changing needs of consumers and businesses.