Automotive Partnership Benefits
We are market leaders, with decades of experience in the automotive industry we serve
Did you know that Assurant helps to keep 50 million motor vehicles running smoothly? We want to make sure you have everything you need to feel confident in our automotive products and services, which is why we provide knowledge and expertise, support and assistance every step of the way - it's how we do this that sets us apart from the rest. Assurant has extensive experience of working with top consumer brands, meaning we understand the importance of customer satisfaction and strong partnerships in order to achieve the best outcomes for your business.
Everything you need under one roof
At Assurant, we have the integrated capabilities to provide your business with configurable solutions, our services are provided in-house, making us a single point of contact. Assurant is the insurer, administrator and claims handler for anything automotive related. Making it simpler and more convenient for your business.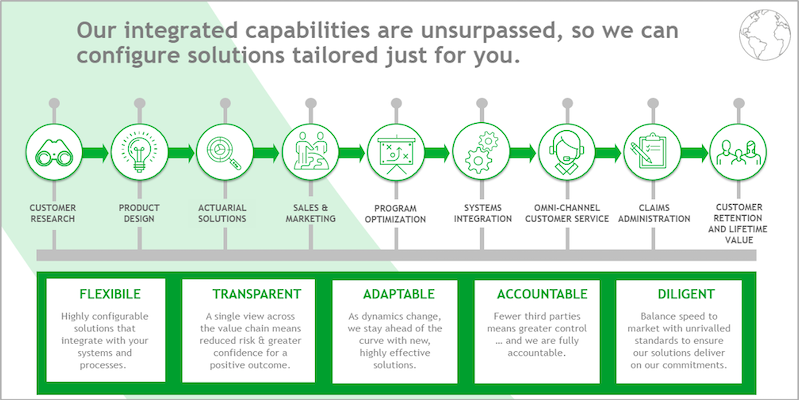 Regulatory Support
As with any insurance products, keeping within regulations is key. We're an established Insurer, embracing regulatory changes across the decades and our consistent focus on treating customers fairly means you can be confident that they are in good hands.
Information Management and Reporting
Assurant will create a set of standard reports to support the management and performance of schemes however these reports can be tailored to specific meet Client needs.
The configuration provided to these reports does not relate to specific metrics instead is determined after collaboration with the Client to better understand their specific needs/requirements.
To discover more click HERE.
Account Management and Training
Our dedicated account management will make sure that the end-to-end proposition and positive customer experiences is delivered from day one.
Your business will benefit from our wide range of in-depth, bespoke training programmes delivered by our dedicated national training team. With the current climate, we have been proactive in assuring that we have ability to build bespoke training via our own online platform. This allows us to give speed of delivery to your business, in addition to full audit trails. Our training can also account towards employees CPD requirement under IDD.
Our industry professionals (with a proven track record in achieving sales success) will visit your business to carry out a Training Needs Analysis. This will identify any gaps in performance and enable us to provide the right solution with you.
To assist you further, Assurant can also help your business by offering:
Interactive group training sessions to improve product knowledge and build on existing practices, to establish a strong process and product presentation skills.

1:1 development sessions and action plans.

Support with objection handling and product knowledge to ensure your customers are treated fairly and have full confidence in their purchase.
All our underwriting is carried out by our excellent and experienced UK based in-house team, allowing us to work with your business to create a solution that works for you. Unlike other providers, we do not outsource our underwriting which means you deal directly with us.
We are always looking towards the future. The automotive industry is one of the most innovative and fast moving. That's why we use our knowledge and experience to create new and forward thinking products to help keep your business ahead of the game. Click
here
to visit our latest innovation EV One!
Corporate Social Responsibility
We believe that creating long-term change to our world requires the highest standards of integrity, ethics and commitment. Discover our CSR report
here
to find out more.